German Wirehair Pointers
Quality Breeding Lines
Quality Hunting Dogs!
Great pups are available!
Click here to see more photos of our hunting dogs.
Please call us if you have any questions
---
Funk's Kennel
e-mail us at:
funkskennels25@yahoo.com
phone: (320) 732-2714



Welcome to Funks Kennels. We have over 30 years of breeding experience, and have developed a line of German Wirehair Pointers that are unbelievably easy to train, free of defects, and have great looks and disposition.

Our German Wirehair Pointers maintain a strong point, retrieve, and track with a soft mouth. As a hunting companion, this breed is considered an "easily trained gun dog".

Our great hunting dogs are located in central Minnesota, but we have sold dogs throughout the United States.

German Wirehair Pointers are a versatile hunting dog that will work closely with either one person or a small party of persons hunting in extremely varied terrain. Being exposed to water at a young age brings out the natural ability of these hunting dogs to retrieve waterfowl. The dogs are also exposed to children at a young age which makes them well socialized, and helps them to develop a mild temperament.
Three generations of German Wirehair Pointers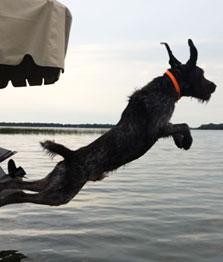 See below for more information on this great dog.
Dogs will be force trained to retrieve to hand, have done water work, no need to be concerned about gun shy, collar conditioned. Shots up to date. Dogs will hunt, find and point birds and retrieve to hand. References available.


Now Taking orders for started dogs ready to go 2019 $1800.00. Puppies available soon. Place your order now!
Please call us if you have any questions
phone: (320) 732-2714