Bucks' first hunt. He did great! We are more than happy with him. Thanks Again!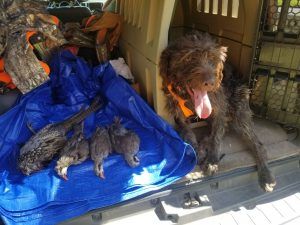 Justin
Jeff says "Berta is doing good likely better than the trainer. Started last season with a late-September prairie-chicken, sharptail hunt in South Dakota then continued the Minnesota pheasant season. She showed improvement with every hunt. I was a little concerned at first about the point and hold but she was very good at that by the end of the season. One concern I still have is she wants to keep the dead bird. I've been doing Force training over the winter months so hopefully this will take care of this issue. She is a very friendly dog and has lots of energy."
Response:Jerry's suggestion for the wanting to keep the bird issue is to continue force training, be persistent. Short sessions everyday and things should improve.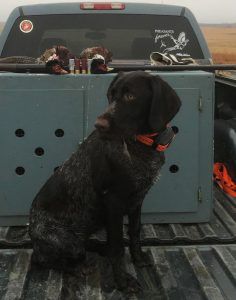 The Voller family is very happy with Kona. She is from Lacey's February 2018 litter. David says " Kona has a really good nose and is very eager to hunt. Had her out to South Dakota last fall, At first she was very overwhelmed and so excited but as the day went on and she settled down she did really well for a first-year hunt. Looking forward to next season"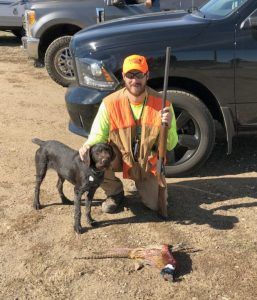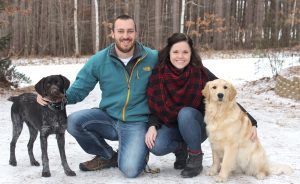 "I have a male from Lacey's litter in February. I named her Badger. Just wanted to say thanks again for the dog. At eight months he is unbelievable. He already held point, retrieved and tracks very well. Just back from five days in North Dakota. We were in lots of water. We ended up in shooting some ducks in very thick cattails in knee deep water. I couldn't believe the stuff he'd go through to retrieve a bird. I can't wait to see where this dog is in a couple years. Thanks Again!"
Matt O' Rourke
I thought I'd share a picture of Echo. She's doing great! Easy to teach and learning fast, lots of instinct, great with kids too. Really happy with her!
Travis Russell
March 2020
Thought I would send a quick update on Echo. She is just over 2 years now and has proven to be a very versatile dog. She has great instincts and a great nose. She is also a wonderful family dog. We have 3 young children and she is very gentle around them. Hope you are doing well!
Travis Russell
The Johnson family is very happy with the new addition to their family home.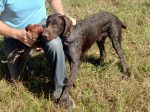 Jerry,
The GWP female we got from you is still just outstanding in every way. Been using her on a lot of fur now as there are a few pheasants in this part of Wisconsin. When we were living in Iowa she (Calli) the female we got from you was natural on all aspects of bird hunting, at a very young age. She's a little over 3 years old now.
Todd Redalen, WI.
Hey Jerry, Just wanted to drop you a note of thanks for such a great dog. Tiggi (as we call her) has been in the field and water and has done absolutely great. She has blind retrieved in the water. She hasn't learned hand signals completely but her nose took her right to the dead bird. She brings it right to hand. I have a friend that has a GWP that he paid 2-3 times what you sell your dogs for and he said that Tiggi will be a better dog than he has. You did great. She is quite the swimmer too. I have taken Tiggi pheasant hunting and each hunt has been more fun than the last. Tiggi is a hard worker. She covers a lot of land but doesn't get too far out. Her nose is absolutely incredible. She finds birds in the worst conditions. Her pointing is improving. Just yesterday I had her out and she LOCKED up solid as a rock and did not move until I released her. She continues to reinforce the fact that I made a great decision on getting her from Funks Kennels. Thanks Again!
Mark Van Bibber
Canton NY
Hi Jerry,
I wanted to drop you a line to let you know that I am very pleased with the Pup that I got last summer. I was hesitant to take her out hunting last fall but I talked myself into it. At four months old she did super, I hunted most of the early season with my brother in law and his Springer/Lab dog. We got up a lot of birds and Sage that's what I call my Wirehair followed along and kept up with us even in the tall set aside fields we have around Northeast Iowa. Then the last three weeks of the season I took her out alone and let her start working the fields at her own pace and try to learn what she was doing. We got into some real wary birds that were flying as soon as we got into the field. But the last day of the season I had an afternoon free so I took her out to a spot that hadn't been hunted very much. We were moving along a waterway and creek when she stopped and pointed and then looked back at me with a puzzling look on her face. Then 8 birds got up and I got one of the roosters, she went out picked it up and brought it back to me to show it off. So at just 6 months of age she had pointed and retrieved her first rooster with out any real training. That was neat.
Jim Berquam
Cedar Falls, Iowa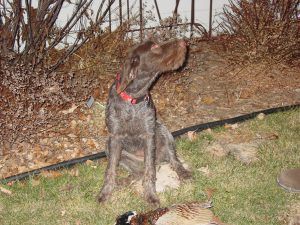 At five months old she has already pointed wild birds and put her head underwater.
Don
Keisha's parents: Gita & Jackpot
Josie is finest pointing dog and I couldn't be happier with her. She has exceeded all my expectations. I will never be without a pointing dog from Funks Kennel again. She works well with my lab and is a great companion.
Kevin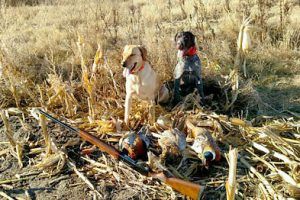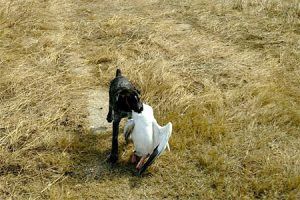 Hello,
I am sure you don't remember my wife and I but we bought our dog Gus from you this spring. He was the last male of 3 in the litter born January 11 2014.
We thought we would share some photos of him with you to show you how well he is doing and to tell you how thankful we are to have him. The grouse hunting photo was on his 9 month birthday, that weekend we shot 10 grouse and 5 woodcock over him. Also this duck opener he retrieved 26 ducks, he loves the water! Besides being a fantastic hunting dog so far, he is an even better family dog. Thanks again!
Jason and Elizabeth Brandenburg
Hi Jerry and Sue. Thought I would send a few pics of the puppy I got in September. I named him Cash. He was house trained in 3 weeks and is very intelligent. Loves everyone he meets and loves to hunt. I started training at 12 weeks and he was a natural! Took him to Kansas at Thanksgiving and hunted, he did very well. Shot about 35 birds over him down there. Have shot about 75 to 80 birds over him already and he is awesome, holds great points and loves to fetch also. I really appreciate what you have done for me by giving me another pup! Hope everything is going well there. Thanks again!
Dean Edwards